Skate Camp 2021
Thank you for signing up for the Fairfax City Parks and Rec, Fairfax Surf Shop Skate Camp!
Please LET US KNOW as soon as possible if you are NOT ABLE TO ATTEND
Monday - Friday | 9AM - 4PM | AUGUST 16-20, 2021
I am so excited we can finally offer camps again after the Covid situation last summer. I wanted to send you a reminder and details about next week.
VERY IMPORTANT MESSAGE CONCERNING YOUR HEALTH PROFILE:
The Fairfax City Parks and Rec office has asked me to remind you that if you have not already completed your
medical Health Profile on your online Camps Doc account you must do so before Monday in order to participate.
WHAT TO BRING TO CAMP All campers are required to bring the following items: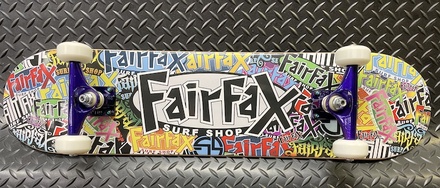 Complete Skateboard* Functioning, Non-Warped good quality . (See sample above and detailed, important note below)
IMPORTANT NOTE ABOUT YOUR SKATEBOARD:
For the safety of the skater and others, please bring a quality skateboard suitable for the skatepark with metal trucks,
quality bearings, wheels, solid
non-warped board with good griptape. Sample picture above.
Note: Cruiser boards and longboards are not acceptable for use in the skate park.
If you have a question please call our shop 703-273-0015.
HELMET* (Required) Please label with name
SKATE PADS* (Knee, Elbow and Wrist) are highly suggested as the kids will be skating in the park and learning new tricks. Please label with name
Lunch & snacks in cooler or container. Please label with name
Refillable Water Bottle Please label with name (campers will have access to water on site as well)

Sunscreen

Proper attire for weather
*All the proper equipment for Skate Camp is available at our shop, FAIRFAX SURF SHOP with a 10% CAMPER DISCOUNT
(Fully stocked for summer with the latest Skateboard equipment. Decks, wheels, trucks, pads and more)
Shop Location: Fairfax Surf Shop, 10304 Willard Way, Fairfax, VA 22030 Phone: 703-273-0015

10% camper discount from now till the end of the camp week.
All campers need to bring a lunch, snacks and refillable water bottle (please label with name) to camp.

Pizza will be offered for lunch on Friday. Pizza orders will be taken Thursday at check-in and will cost $2.00 a slice (please bring cash).

Campers will receive breaks for water, lunch and activities throughout the week.

Lunch will be in the outdoor pavilion.
DROP OFF TIME: 9:00-9:15am to check-in every day for camp.
PICK-UP TIME: 4:00pm. Please pick-up on time.
Important: If a camper is not picked up by 4:15 PM they will be charged for after care services for that day.
BEFORE / AFTER CARE
Before & After Care is available. For rates see link below. Please email joan@fairfaxsurfshop.com if you are interested.
FOR MORE CAMP INFO ( instructors, before / after care, schedule etc)
FAIRFAX CITY PARKS AND REC OFFICE
FAIRFAX SURF SHOP (For Questions about Camp)
Camp Director: Dan Callahan

Manager: Ms. Joan Callahan email: joan@fairfaxsurfshop.com

Address: 10304 Willard Way, Fairfax, VA 22030

Phone: 703-273-0015

Hours: M-F 12-8pm, SAT 10am-6pm, SUN 12-5pm
IN CASE OF EMERGENCY OR BAD WEATHER: We will go into the Park Pavillion or Sherwood Center.
Parks and Rec Office: Stacy C. Sherwood Community Center (Front Desk): 703-385-1695 (This is the building next to the skate park )
WEEK OF CAMP

STAFF EMERGENCY CONTACT CELL NUMBERS (Emergency use only please):
Dan Callahan (Camp Director) cell: 703-624-0664 email: dan@fairfaxsurfshop.com
Teo Lang (Instructor/ Main Contact) cell: 315-415-7320
Looking forward to seeing you all next week!

dan@fairfaxsurfshop.com